West Yorkshire School Games - Cross Country 13.03.18
After our success at the Calderdale finals, we took our year 4 girls and boys' teams, our year 5 girls' team and our year 6 boys' team, as well as Leo from year 5. All of our runners were fantastic and their team spirit was great. Nia took second place and Leo took third place, putting them both through to the national competition in Loughborough on 24th March. What a fantastic result for these talented runners! Well done also to our year 5 girls' team who came third overall in West Yorkshire: brilliant!!!
Football Tournament 9th March 2018
Our year 5&6 boys' team entered the annual large schools' football tournament at Ryburn. They had to play 3 schools in the first round and they won 2 games and drew 1. This made them the top team in their group and put them straight through to the final. The final was against Barkisland. The games were only 8 minutes one way so it was crucial not to let any goals in. After a few attempts from different players, Lukas managed to score. There were only a few minutes left and the boys managed to defend and stop any goals against us, therefore making Ripponden champions! Well done boys.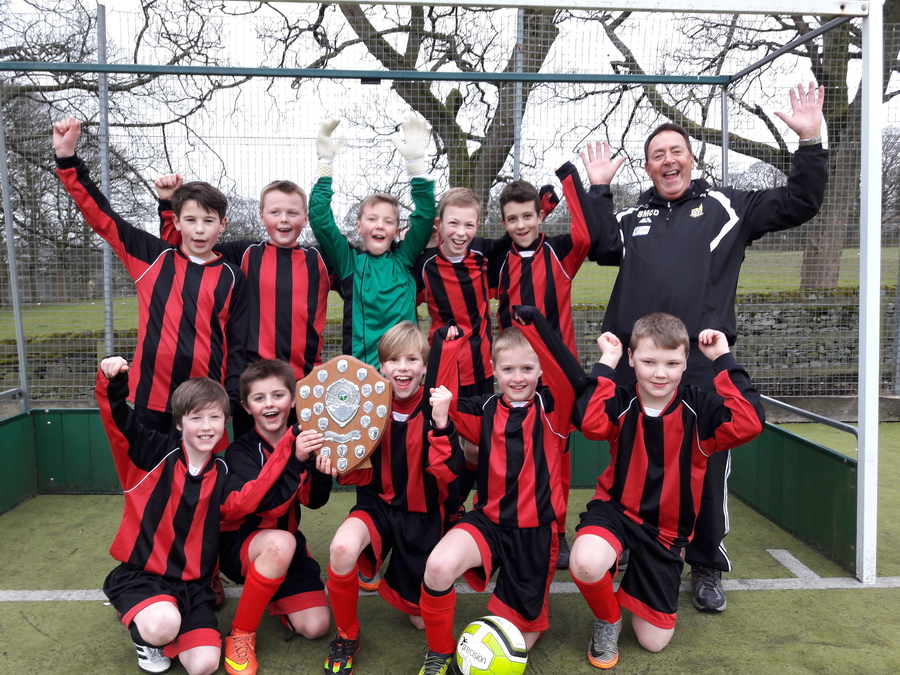 Orienteering at Savile Park - 7th March 2018
Following a morning's training session with a qualified orienteering coach, we decided to enter 4 teams into Calderdale's first primary orienteering competition. We had two year 4 teams and two year 6 teams, each consisting of 4 children in pairs. Each pair was given a map and an electronic dibber. They then had to find the correct point and use their electronic dibber to prove that they'd gone to the correct check point. They than had to run back to the start point to give their dibber to the other pair in their team. This process continued until all the points had been checked off - there was a lot of running involved! We were very pleased to find that our teams came first and third in both year groups, putting them all through to the West Yorkshire School Games on Tuesday 27th March. Fantastic work guys!
Cross Country at Savile Park - 5th March 2018
We took 28 children to the Calderdale finals for cross country at Savile Park. All of the children were fantastic with some amazing individual and team results. Three of our children came first in their races and all of our girls' teams that went to the event, also came first. The year 4 boys and year 6 boys teams came fourth which means that they are also through to the West Yorkshire Cross Country finals. Well done everyone!'
Sportshall Athletics 2018
On 7th February, our sportshall athletic's team took part in the Calderdale finals at North Bridge Leisure Centre. This involves competing against 9 other schools from around Calderdale who have already come first or second in their area. It was a tense moment waiting for the results but we were very pleased to come an impressive second place which put us through to the West Yorkshire finals. This event was on 13th March at Huddersfield Leisure Centre. Again there were ten schools altogether but these were schools from Bradford, Leeds, Wakefield, Kirklees and of course Calderdale. The level of competition was extremely high but Team Ripponden performed extremely well and we were very proud to come 8th in the whole of West Yorkshire.
Sports Hall Athletics at Ryburn 10.11.17
28 children from years 5&6 went to compete at Ryburn in the annual sportshall athletics competition. Children were competing in a range of events involving running, jumping and throwing. The children work as a team to earn points from each event. The field events were first and we got lots of excellent results but there was good competition from other schools. Next were the track events. The children ran in teams for every event and we didn't lose one race! The results were quickly calculated and we were extremely pleased to come first! Calderdale finals await!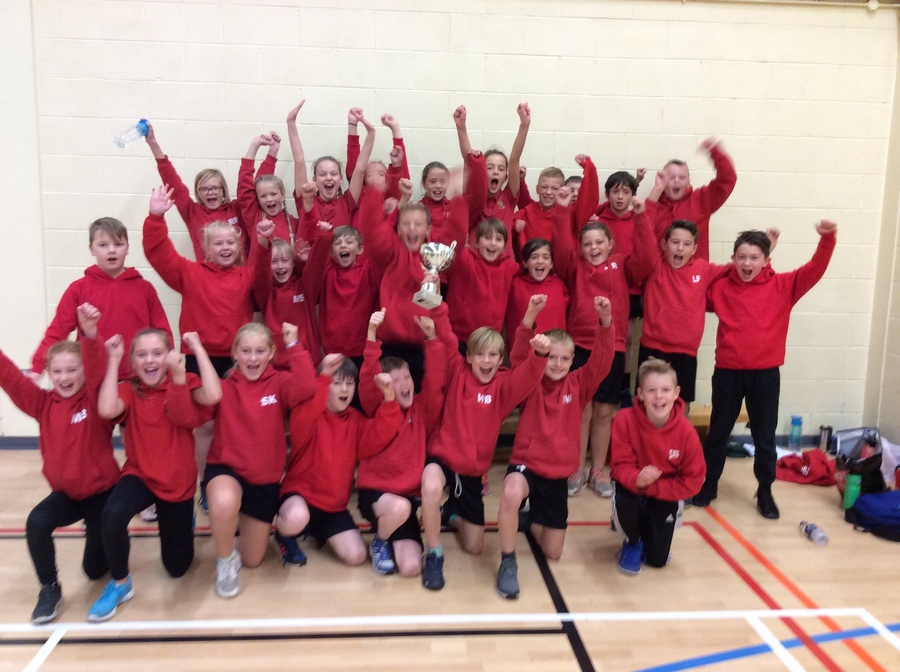 Cross Country at Ryburn 13.10.17
We took 39 children from year 3 to 6 to Ryburn on Friday for the annual cross country competition. There were hundreds of children from local schools and the competition was high. All of the children ran really well and we had some fantastic results, with 5 of our children winning medals. Overall we came first in the large schools' competition and we have 5 of our teams going through to the Calderdale finals as well as 9 individuals. Great work team Ripponden!!
Girl's Football at Ryburn 29.09.17
The girls had an excellent start to their year when they competed against local schools at Ryburn Valley High School. They won in their group beating Sacred Heart and New Road. Then they drew 1-1 against Barkisland. This meant that they needed to beat Triangle but unfortunately they drew again 0-0. A really good start girls, well done.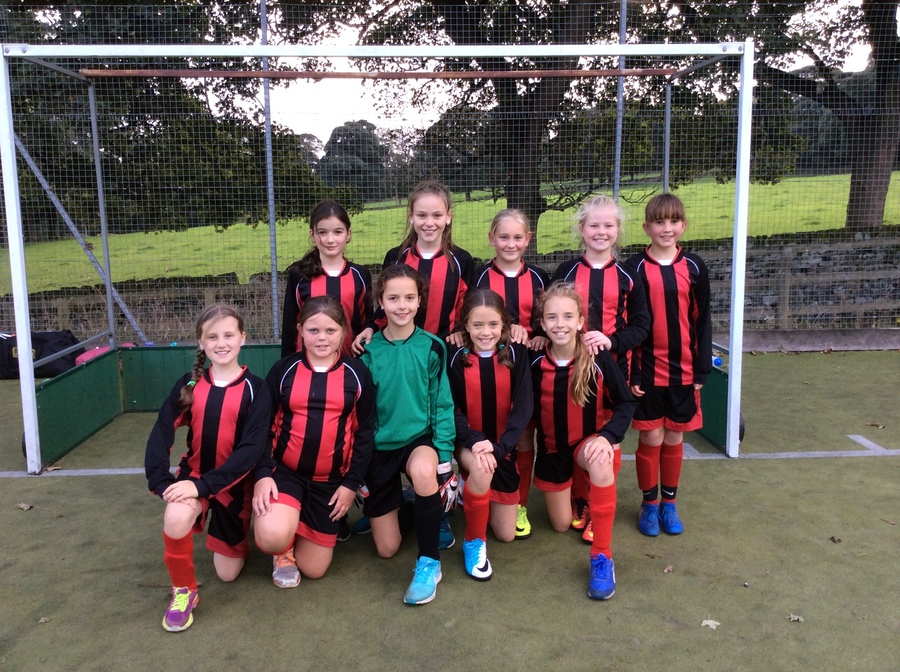 Tag Rugby Tournament 22.05.17
A team of 5 boys and 3 girls from year 6 competed in the tournament at Old Rishworthians. They won their first game 4-1 and their second game 1-0. The third game ended with a draw 2-2 so they needed to win their fourth game to go through to the next round. Unfortunately they were up against a very good team from Copley and lost 3-4. What a close match! An excellent effort from the whole team; well done guys!
Monday Mile Club
On 24th April we launched our new club which anyone from key stage 2 can join. The idea is to run, skip or walk laps of the back field to 'clock up' the miles. 8 laps of the field makes one mile and this is logged in your own record. There will be certificates presented when certain milestones are achieved (eg. 5 miles will be the first award). Well done to all who have attended so far!
Netball Tournament at Ryburn - 28.04.17
We look two teams to the netball tournament and both played really well. The B team won two of their matches and lost two; all of the team played really well. Team A won all of their league matches, some of them much tougher than others. This put them straight through to the final against The Gleddings A team. In the first half, the Gleddings went ahead quickly and were winning 5-1 by half time. After our rotations however, we started to pull back and the score crept up to 5-4. Unfortunately we were out of time and the whistle blew with us only one goal behind. A very hard fought match and very well played by the whole team.
Girls' Football Match - 28.03.17
On Wednesday 29th March, the Ripponden girls' football team played Elland CofE School at home. At the end of the first half it was 0-0, but two minutes into the second half, the opposition scored. 1-0 to them. Their coach said, "Don't get so excited; it can soon change!" And we were hoping that it would. Only five minutes later Rebekah Eastwood had an amazing shot and scored, to make it 1-1 but there were only 2 minutes left. With 3 seconds remaining, Maisie passed to Lucy Kinsella. She tackled three players and scored! In the end it was 2-1 to us. Well done everyone!
By Rebekah Eastwood and Lucy Kinsella
Gymnastics competition at North Bridge Leisure Centre - 28.03.17
On Wednesday evening two teams from Ripponden School entered the annual Calderdale gym competition. We had a team of all girls from key stage 2 and also a mixed team. After many weeks of practise the teams were ready and looked incredibly smart in their school leotards. The level of competition was incredibly high and our teams gave a great performance. It was nerve wracking waiting for the results but we were very pleased to be awarded with second place for both the girls and the mixed teams. Well done to all of our fantastic gymnasts!
West Yorkshire School Winter Games - 25.03.17
On Saturday 25th March, a team of five, year 6 boys headed to Leeds Beckett University for the Winter Games. After an exciting opening ceremony where the team were able to meet para-olympian, Hannah Cockroft, it was off to the hockey pitch for the competition. Each team had been put into a group and had to play every team in that group. As we won all of our group matches, we were placed at the top of our group. We then had to play the runners up from a different group, which unfortunately we lost. We were then playing for final positions (5th-8th). We won our final two matches giving us 5th place overall out of a total of 16 teams. This was an excellent result. The boys played brilliantly all day, were incredibly sporting and were an absolute credit to our school. Well done boys!
Quicksticks - 16.03.17
We played four games against other schools in a competitive hockey tournament. It was on 16th March 2017. We played two tough games against Northowram and Old Earth. We beat Northowram 2-0 but lost to Old Earth 2-1. Because we did so well in the competition, we came second in our group and third overall. This has allowed us to go through to the West Yorkshire School Games at Leeds Beckett University on Saturday 25th March.
By Ewan Davidson
West Yorkshire School Games – Cross Country 15.03.17
On a beautiful spring day, our year 4 and year 5 boys' and girls' teams travelled to Temple Newsam in Leeds to take part in the West Yorkshire cross country competition. The year 4 girls' race was first and we had an amazing result with Nia coming first – the top year 4 girl in West Yorkshire! Not to be out done by the girls, Leo then came first for the year 4 boys. Two gold medals in the first two races – amazing! The year 5s also gave a fantastic effort and we are very proud of the whole team. Well done guys and keep running!
Year 5&6 Key Steps Gymnastics - 14.03.17
On Tuesday 14th March, some girls went to Diamonds Gym to compete in the Year 5&6 girl's foundation team for the Key Steps competition. We spent the morning practising and getting ready as well as performing our routine to all of Key Stage 2.
After dinner we went to the competition and had to wait for a long time but finally we did all of our routines one by one. At the end we came 6th out of 17 so we did pretty well overall.
By Paige Rydon
Football Tournament at Ryburn 10.03.17
Our boys' football team took part in the annual 'large' schools at Ryburn Valley High School. They got off to a great start winning against Luddenden Foot School and then drawing against Triangle B team. They then won against Bolton Brow. This put them through to the semi-final against The Gleddings which they won and then they were in the final against Triangle A team. It was a gripping match against a very good team but Lukas managed to score the winning goal, ensuring that the trophy was returned to our shelf. Well done boys; a super display of football talent and great sportsmanship.
Quicksticks at Park Lane - 08.03.17
Cross Country at Savile Park - 15.02.17
Football Tournament at Calderdale College - 09.02.17
Calderdale Sports Hall Athletics - 07.02.17
Ryburn Sports Hall Athletics - 11.11.16
Primary Boccia - 19.10.16
Cross Country at Ryburn - 14.10.16
Girls' Football Tournament at Ryburn - Sept 2016